for more information or to order, phone or text 616-450-0440 

or e-mail rdfabrications@runbox.com

Fabrications are lightweight wall sculptures completely handmade from multiple layers of hardened fabric. They are created individually in the studio of husband-and-wife team David Jellema and Ruth Petersen Jellema in Rockford, Michigan. Designs range from small, whimsical plaques to large life sized groupings of multiple figures.

The best place to purchase a FABRICATIONS design is at an art fair. You can stand in the booth and look at many pieces, talk face to face with the artist, and take a piece home with you. Check out the schedule page to see where we will be.

Also, you can order a piece by phoning or texting 616-450-0440 

or e-mailing rdfabrications@runbox.com. 

You can order exactly what you want in the size and colors you want. Since each piece is individually made, there is no extra cost for special orders.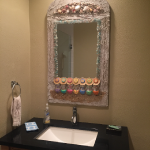 We have a whole new line of work which ,for now, we are calling dimensional paintings.  They are made using the same fabric mache techniques as our sculptural pieces, but are more relief than sculpture - only 1"-2" deep - with more emphasis on the painting.  Basically rectangular with irregular edges, they range in size from 8" x 8" to 24" x 48" and are mostly nature themed.  Look for a sampling of smaller pieces as part of our normal booth and an entire new booth at 

Krasl Art Fair on the Bluff July 13-14 in St. Joseph, Michigan.

These designs look great in

 groupings !

We discount for groupings

 of 3 or more.